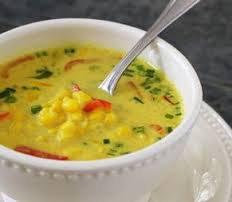 Ingredients:
1 tablespoon olive oil
3 garlic cloves, minced
5-6 green onions, diced
1 large red bell pepper, thinly sliced
Two 14-15 oz cans coconut milk
3 cups rice milk
8 ounces frozen or fresh corn
1 tablespoon curry powder, or to taste
1 teaspoon Thai red curry paste. or to taste
1 teaspoon sea salt, or to taste
1/2 cup fresh cilantro (optional)
How to Create:
In a large pot add the olive oil, garlic, green onions, red bell pepper, coconut milk, rice milk and corn. Low heat till it is steaming hot, but not boiling. Next, add the curry powder, Thai red curry paste and sea salt. stir until the curry powder and curry paste is all mixed in. Before serving you can add the fresh cilantro on top.
Enjoy!
Certified Herbalist
Certified Nutritional Herbalist
Reiki Master, Teacher