"Letting Go" is The Osho Zen Tarot Card of the Week for December 22 to 28, 2014.
Meaning of the Card: In existence there is nobody who is superior and nobody who is inferior. The blade of grass and the great star are absolutely equal…. But man wants to be higher than others, he wants to conquer nature, hence he has to fight continuously.
All complexity arises out of this fight. The innocent person is one who has renounced fighting; who is no longer interested in being higher, who is no longer interested in performing, in proving that he is someone special; who has become like a rose flower or like a dewdrop on the lotus leaf; who has become part of this infinity; who has melted, merged and become one with the ocean and is just a wave; who has no idea of the "I". The disappearance of the "I" is innocence.
Commentary on the Card: In this image of lotus leaves in the early morning, we can see in the rippling of the water that one drop has just fallen. It is a precious moment, and one that is full of poignancy. In surrendering to gravity and slipping off the leaf, the drop loses its previous identity and joins the vastness of the water below. We can imagine that it must have trembled before it fell, just on the edge between the known and the unknowable.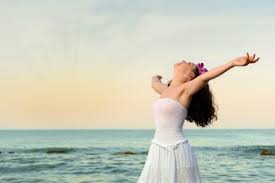 To choose this card is a recognition that something is finished, something is completing. Whatever it is–a job, a relationship, a home you have loved, anything that might have helped you to define who you are–it is time to let go of it, allowing any sadness but not trying to hold on. Something greater is awaiting you, new dimensions are there to be discovered. You are past the point of no return now, and gravity is doing its work. Go with it–it represents liberation.
I had to smile when I pulled this card last night. I had just returned from a Solstice party where we did one of my favorite "letting go" rituals.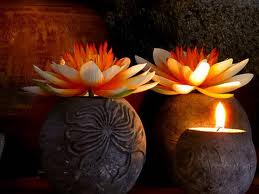 Each of the guests makes two lists: One includes everything we want to let go of from the current year; the other lists what we want to bring in for the coming year. One by one we burn our "letting go" lists. As the list burns we watch as whatever we are letting go of is released to the Universe.
As 2014 comes to close, may we let go of the challenges and difficulties faced this year, and be at peace with what is ending and coming to completion. As we welcome 2015 with a fresh and hopeful perspective, may our hearts be filled with joyful anticipation of the great new things coming our way.